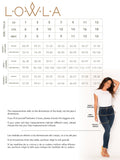 Wide leg Colombian jeans for women Lowla 242455 High-waisted jeans that go great in any occasion. Jeans for women that hug curves beautifully. Achieve a more trendy and cool vibe with these versatile jeans. They can be used for a more dressy look but also for a more informal look.
You can match with many tops and shirts.

Build casual or formal looks easily.

No front pockets.

Belt loops.

High waist.

Front zipper.

One-button closure.

Wide leg.

100% original Colombian jeans.

Olive Green: Made of 82% cotton, 16% polyester, 2% elastane.